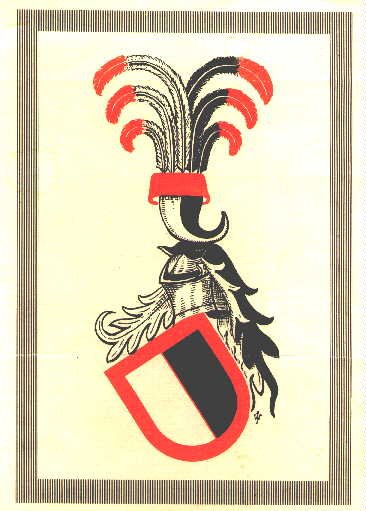 Helmet Covers
---
---
"the helmet-covers are on both sides, silver on the inside,
black-tinged on the outside . . ."
"The helmet cover apparently came into use out of necssity, to protect the metallic helmet against the rays of the sun. It was originally utilitarian, short, and smooth-edged. When the tournament equipment began to grow gorgeous, however, the helmet cover became more and more of a show-piece, and was correspondingly more richly represented inart, until finally in the Renaissance-style arms it became a purely ornamental, symbolic decoration piece, whose origin could hardly be recognized. The helmet cover belongs to the heraldic helmet and is, corresponding to the main colors of the shield, two-colored, with the metallic colors (silver, gold) mostly within."
Our helmet cover is, corresponding with the colors of the family arms, and corresponding in a special way with the chief colors of the augmented arms, black and silver. (The helmet cover in the arms of the twig of our family who were imperial counts from 1715 to 1887 is black and golden, heraldically false, but in the declining time of heraldry was so permitted by imperial grant.) (10)
---
Back to the von Bose Coat of Arms